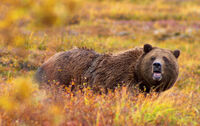 The
Grizzly Bear
(
Ursus arctos horribilis
), also known as the
Silvertip Bear
, is a
bear
of the uplands of western North America. Weighing at 180 to 680 kilograms (or 400 to 1,500 pounds), Grizzly Bears are more commonly found throughout the Canadian provinces and the northern United States, for example Washington, Idaho, and Montana, and especially Alaska. Like other bears, the diet of the Grizzly Bear includes
fish
, such as
trout
,
bass
, and
salmon
. However, some feedings will encounter other rivalry while they hunt for
moose
,
sheep
, and
deer
. The Grizzly Bear is currently listed as
threatened
in the United States and on the
endangered
list of
species
in Canada.
Ad blocker interference detected!
Wikia is a free-to-use site that makes money from advertising. We have a modified experience for viewers using ad blockers

Wikia is not accessible if you've made further modifications. Remove the custom ad blocker rule(s) and the page will load as expected.